An Introduction
In today's age of cut throat competition, a business entity thrives not just on its products, but also on how effectively it is being transported to various other parts of the country and of the world as well. Efficient and accident free transportation of goods require an equally efficient logistics system. Supported by a strong business acumen and a dedication to serve our customers, we, ICS Freight System, an ISO 9001:2015 certified company, were incorporated in the year 2005. We are one of the fastest growing and the most reliable service providers of the country, serving and fulfilling our customers varied logistics services needs such as Cargo Handling, Customs Clearing, Freight Forwarding, Air Freight Forwarding Services and Sea Freight Forwarding Services.
Customer Care...Our Mission

Centering our activities entirely around our customers, we, ICS Freight System, are ardently seeking ways to innovate ourselves to provide highly customized and complex free services to them. All our activities are executed by a group of experienced and well informed professionals having years of professional experience behind them. They are well equipped with all the legal and other formalities and therefore, cause no worry or anxiety to our esteemed customers. A brilliant transportation facility ensures smooth and safe delivery of the consignment to the destination point, thereby boosting the faith of our customers in our highly specialized logistics services.


Services Rendered by Us
ICS Freight System delivers its services in the easiest and fastest manner, giving our customers a way to dispose off their worries relating to their consignment and their delivery. We are a reliable service provider, offering these superlative range of services to our customers:

Cargo Handling
Sea Freight Services

Freight Forwarding
Air Freight Forwarding
Sea Freight Forwarding
Customs Clearing
Perishable Goods
Export Import Consultants
Warehousing Services
Road Transportation
Licensed Issue

We also specialize in the Import & Export matters
Advance Authorization - issuance and redemption thereof
EPCG License - issuance and redemption of thereof
DEPB Authorization/fixation SION
Focus product/focus market/Vishesh Krishi duty free licenses
Negative/restricted list of Import License
Export House Certificate recognition
100% EOU status/SEZ application/connected matters therewith
Claim for refund of Additional Duty against the import from the Customs
Application for deemed export Drawback/Refund of Terminal Excise Duty & matters connected therewith.
Perishable Goods Import & Clearing any part of world, veg-fruits, flowers, etc.
Our Strengths
With a blend of dynamic and experienced professionals, ICS Freight System is soaring high into the sky as the most trusted service provider in the country. Our workforce is our biggest strength, growing with the time to provide more and more user friendly and customer friendly services. An adequate knowledge of customs and other legal formalities is an added asset to our company. Along with our dexterous manpower, what sets us apart from the rest is our latest computerized systems that gives us ample of scope to provide our services in the most hi tech manner.
The Hallmarks of ICS
Following are the high points of our company that sets us apart from the rest:

Strict and to the point follow up of cargo right from the port of origin to the port of destination
Simply the best infrastructure and a congenial working environment
A brilliant team of manpower which devises the most cost effective ways of imparting user friendly solutions
Consistently monitoring the authenticity of shipment documents
Easy documentation procedures
Customized packages conforming to the customers' needs
Modern and adequate transportation facilities
State of the art warehouse with brilliant storage conditions for efficient storage of shipment goods
Thorough knowledge of customs formalities.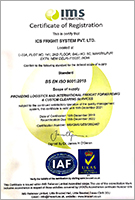 Read More